Free Newsletter Templates
> Business Newsletter Templates
Free Real Estate Flyer Template
---
Free real estate flyer template in Microsoft word format with spots for house photo, listing details and information.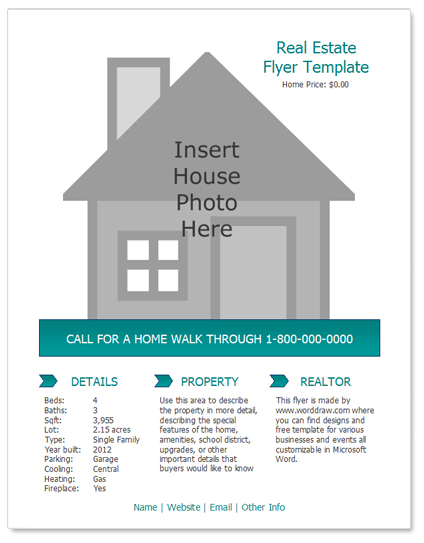 Having a great take away flyer is a must have when listing a home for sale. If your house is on a heavily trafficked street with lots of cars driving by or foot traffic, you may want to have a box with flyers next to the for sale sign that passersby can take with them. I know I've picked up this type of information many times when I saw a cute house for sale. If you are the independent sort and are trying to market and sell your home yourself, then having as much professional materials as possible is a must have. For sale by owner types will love these free real estate flyer templates that make it easy to create your own clear and concise information page all in Microsoft Word.
After a potential buyer goes through a home during a showing, it's important to give them a fact sheet on the house as a good reminder of the positive things they've just seen and to keep the house fresh in their minds. You want a little reminder there so they don't move on to the next listing.



DOWNLOAD the real estate flyer
Size: 8.5" x 11" - standard letter paper
File Type: Microsoft Word .doc
This single page handout makes a perfect flyer for your listing. Simply insert a photo of the home you are selling and fill out the details.