Business Templates
> Church Newsletter Templates
Free Church Newsletter Template
---
Non-denominational clean and easy to read religious design.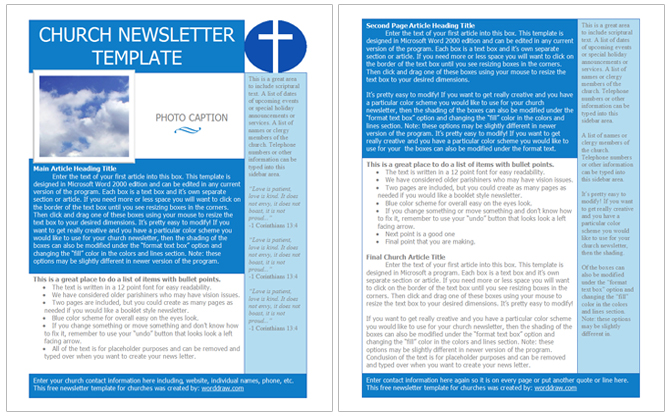 This free template is a two page design with a pretty sky blue color theme. The article text is large and readable for older parishioners with difficult eyesight. You can edit the newsletter in any version of Microsoft Word that can open .doc files. If you want more than two pages, just copy and paste to create additional pages. This newsletter design includes lots of space for articles, with two thin sidebar columns that are great for lists and small one to two paragraph space for five more articles. You can insert a photo or clip art to go along with the stories you are sharing. Are you not sure what to feature in your church newsletter? The purpose of a newsletter is to share information that your readers would be interested in knowing. Are there any church activities that were particularly successful that you would like to write about? What about summaries of some of your recent sermons or quote some of your favorite Bible passages and write about those. Staff updates, a calendar of events and notices of special services for holidays is also good to include.



DOWNLOAD this free newsletter template for Microsoft Word
Size: 8.5" x 11" - standard letter paper
File Type: Microsoft Word .doc
Two pages and must be in "Print Layout View" in order to modify the template in Microsoft Word.