Free Newsletter Templates
>
Family Newsletter Templates
Baby Pool Template
---
This free baby pool printable template will allow you to log all the baby shower guests game guesses on one sheet.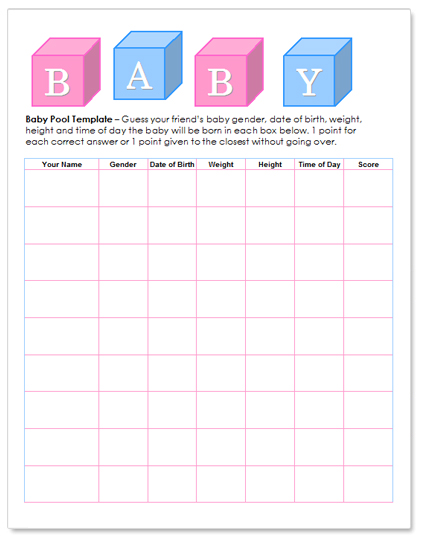 A baby pool is a guessing game that you can play at a baby shower or with friends and family when you are an expectant mother. This free baby pool printable template will allow you to log all the guesses in one place including babies date of birth, the official birth height and weight, as well as the gender if not already know. You will have to wait until the baby is born to find out who the lucky winner is. Each person who guesses correctly will score 1 point. The answers like date of birth or height and weight can be awarded to the person who guessed closest without going over the actual number. Time of day the baby is born can also go to the person who is the closest since the likelihood of someone getting that exactly is pretty difficult, but it can be fun to guess whether the child will come during the middle of the night or during the daytime. The template can be completely customized in Microsoft Word, so you can add or remove columns as you like. Cute pink and blue blocks spell out the word "baby" at the top of the page. Some other ideas for categories are born with or without hair, number of hours in labor, born before or after the due date. This can also be played by the daddy to be and his friends since men love to make wagers on things too. You can make anything the prize or do a cash prize since betting pools tend to involve one.



DOWNLOAD the baby pool template
Size: 8.5" x 11" - standard letter paper
File Type: Microsoft Word .doc
You can print multiple pages if you have more guests than the number of lines on the flyer.